Our Mobile Patrols Enhance Your Security
Whether you own a business, have a series of building developments on the go, or just want to improve the level of security at home, at Wye Security we understand your needs and are always going that extra mile to ensure the safety of our customers and their property.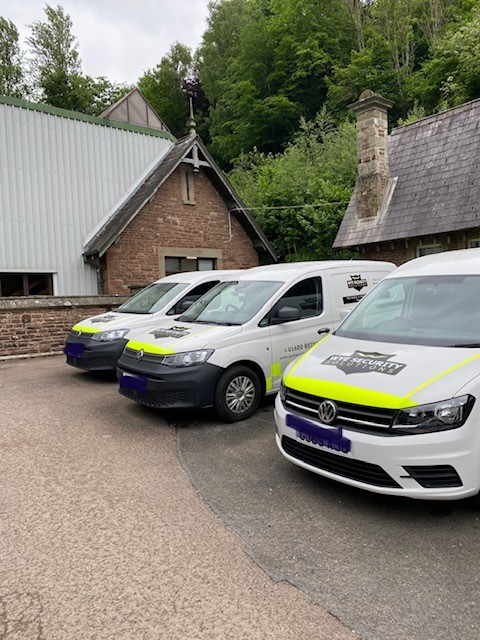 Our latest investment here is in a fleet of brand new patrol vans. And they are not just any old vans either, but ones designed to be NOTICED. This is vitally important as we know that when any wrong doer, a burglar or a vandal, sees that a property is protected (the first indication being our 'This Property is Protected by Wye Security' sign) and then see our mobile patrol team turn up, that they are highly likely to move on and chose some less well protected home or business.
Why are Mobile Patrols so efficient at moving crime on?

Signs are all well and good, as are CCTV cameras and Alarm boxes on the wall, but nothing makes an intruder more worried than seeing a mobile patrol drive up to the place they were thinking of targeting.

It is no secret that in many instances villans' case' a premises out before they carry the actual break-in, and if when they are doing this 'reconnaissance' they see a mobile patrol, and one that turns up not to a strict schedule but one that cannot be calculated, they are going to think again.
It's called 'Crime Displacement' and the statistics show it works.
But for this to work, the mobile patrol vehicles have really got to be VISIBLE, which is why our brand new 23 Plated vans stand out like the proverbial sore thumb.
They simple cannot be missed and this is just what we want.
Our mobile patrols, when combined with our alarm response and keyholding services, offer the very best protection available. Together they show:-
An Authoritative Security Presence
Offer a Deterrent, thus stopping potential crimes
Provide an Atmosphere of security
That a property is protected by our Vehicle patrols
Our use of marked, highly visible patrol vehicles, ones that are constantly on the move creates an image of authority and professionalism, whilst at the same time keeping the wrong doers guessing. They simply never know when a van is going to turn up.
Remember, most criminals are more likely to choose a home or business that does not have security, thus by using a company like Wye Security with their roving patrols, you establish an obstacle in the criminals mind.
Mobile security patrols also allows us to cover more ground and that keeps everybody's costs down, allowing us to provide high quality security packages for just about every business or home, packages that don't cost the earth, but offer true protection.
At Wye Security, we believe employing high visibility patrol vehicles will create the barrier necessary to move crime on, and thus protect your property and staff etc.
So, when you see one of our vans, give us a wave, we are after all out there for the good of all.