Alarm Response Services
WSS provide a 24/7 Alarm Response service to residential and commercial clients, working in conjunction with our key holding service, to respond to alarms, disruptions and emergencies. If your alarm is activated, then our control room is notified by your alarm company and one of our highly trained officers are deployed to your premises within industry standard time frames.
But why is a Fast Response Essential?
There are Five main reasons why a quick response is a must:
Deterrence: If the alarm system protecting a premises, be it your office or home, is a good one, it could well be triggered BEFORE anyone has actually gained access. For instance, it could go off one someone entered the vehicle storage area, but had not managed to break into a lorry or car, or had broken a window but had not climbed through it. So, if the response to the alarm is fast enough, it is very possible that they will leave before any damage is done, and will certainly be less likely to return.


Minimizing Losses: Even if the intruder has managed to gain access to the protected premises, they are unlikely to hang around when any security guards appear. Instead they are liable to leave as fast as possible, more than likely with few, if any, of your belongings, stock or equipment.


The Apprehension of Intruders: Whether we like it or not, in many cases, the local police force are not able to quickly attend to any call at the moment. There is simply not enough of them available, something that the criminal fraternity are only too aware of. This makes it even more important to get someone there as soon as possible after the alarm sounds. That way, the intruder can be restrained until the forces of law and order arrive.


Personal and Staff Safety: In some instances, you, or your employees could well be in the premises when the alarm is triggered, and you or they are unlikely to want to confront any intruder. This is where your security team comes to the rescue. But they need to be fast, something that not all security firms offer.


Peace of Mind: It is all well and good fitting an alarm system, but what you also need is a rapid response, only then can you have true peace of mind. This creates a sense of security and confidence, knowing that any potential threat will be addressed promptly, minimizing the risk of harm and property damage.

This where Wye Security can help you. We have an excellent record when it comes to quickly responding to any alarm activation, indeed in Nov 2023, we responded far quicker than the Police and were able to hand over the intruders then and there when they did arrive.
Around-the-Clock Fire Alarm and Intruder Alarm Response
We will attend your premises, find the source of the activation and reset the alarm to ensure continued protection. If the alarm has been caused by a confirmed intruder and a break in has occurred, our officer will follow the pre-determined instructions, contact the police or fire brigade as necessary and remain onsite until the premises are secured again. We can respond to a wide range of alarms and situations, from intruder alarms and fire alarms to care and 'personal security' panic alarms.
Residential Security – Peace of Mind Against Burglaries
Our Alarm Response services provide peace of mind to homeowners and are also critical to many local businesses, business security always being a subject of concern. The issue with the owners of any business premises, is that they must have a dedicated key holder, someone who can respond to any alarm activations in person within a short time frame.
You Cannot Afford Not To Attend
Failure to attend when a monitored alarm is triggered on a property on more than three occasions could seriously impact upon your business as the police may withdraw their response for the premises, branding your alarm as nothing more than a nuisance! It is possible that even the fire brigade could get fed up if your fire alarm monitoring and response is poor.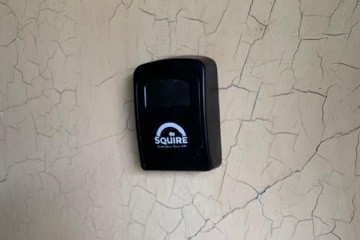 Avoid Expensive Training and Risks To Staff
This is bad enough but now consider the legislation surrounding Corporate Manslaughter. Changes to the law have affected company Directors and Line Managers, who must now ensure that staff who are responsible for responding to alarm activations out of hours are fully trained (which is expensive and time-consuming) and prepared to deal with any potential security breach at the premises.
Safety First is Best
While it may be possible to find a willing candidate for key holding amongst your team, many businesses are choosing to prioritise the safety of their employees with our dedicated Key Holding service. This eliminates the responsibility and risk to staff, which could be high if they find themselves in a situation have they have to deal with thieves or other criminals.
Business Security Systems That Deter
Besides our guard services, we can also provide signage boards to work as a deterrent to possible criminals, this alone can be very effective. Our all-terrain patrol vehicles ensure we can continue to provide quality security solutions, whatever the weather, something that not all other security companies can compete with.
---
SIA Approved Contractor Status
WSS holds SIA approved contractor status for the provision of Key Holding services. The ACS Standard encompasses all aspects of a security provider's operation. It takes a holistic view of how well an organisation is managed and an approved organisation must demonstrate to an independent assessor, on an annual basis, that it has met defined standards.
The whole team at WSS and Managing Director Andy Element worked hard to achieve the accreditation and will continue to uphold this high standard through the Key Holding services we provide. Visit our official listing in the Security Industry Authority's Register of Approved Contractors to find out more.
Your Security Solution = Our Area of Operation
We provide professional security guard services and other security protection services across a wide area, providing security for both residential and commercial customers in the following areas:
Herefordshire

Rotherwas
Holme Lacy
Ledbury
Bromyard
Ross-on-Wye
Malvern

Gloucestershire

Newent
Cheltenham
Gloucester
Forest of Dean
Tewkesbury

Gwent
Worcestershire
Monmouthshire

Monmouth
Chepstow
Newport
Abergavenny
Usk
Pontypool
We are happy to discuss how our Alarm Response services can your meet your needs, contact us now to find out more.