Key Holding Company  
Key Holding is all about being there when you or your staff cannot, or don't want, to be.
The latter particularly being the case when your alarm monitoring company has been alerted to suspicious activity such as a fire-alarm or security alarm being triggered or vandalism taking place. Also, do you really want to go out in the depths of winter (or send a staff member) to check on your building? It's much safer (and easier) to use Wye Security!
Incident Response for all Emergencies
This is why our Key Holding Service for residential and commercial premises, together with our response service is so very useful, whilst also providing peace of mind. We will respond to any issues in your absence or automatically, as directed, through daily routine and random visits, regular inspections, lock up services and alarm activations.
Building Security
Our key holding service can deal with any issues at your property from locking up after staff to avoid your employees being responsible for carrying keys and opening up, switching heating on, turning off air conditioning, or anything else you require our officers to action on your site.
Your keys are totally safe with us – we do not hold keys in our vehicles and all of our customers' keys are stored, unmarked and comply with regulatory standards and are fully insured.
Rental / Holiday Rental – Lost Key Service
There are many other types of keys too, all of them having the potential of getting lost.
This can be a real problem if the property in question is a holiday home or rental property, especially if the owner lives a long way away from the property in question.
You can imagine the problem, you have rented your property out and the tenant / rentee, loses the key at 1am and you are 100 miles away safely in bed. Just what can you do?
Well, if you have trusted your key with us, you will have nothing to worry about. Subject to the necessary verification, we will be able to get a key to the property and all will be well.
So, if you have some rental property and want a back up service to sort any lost key scenarios, we can help.
Our Other Business Security Solutions
Our commercial security solutions extend far beyond key holding, these including, mobile patrols (especially useful if your commercial premises has a big perimeter), static guard services, lone worker protection and event security. Together these 'loss prevention' services offer a comprehensive security solution for every company, firm or householder.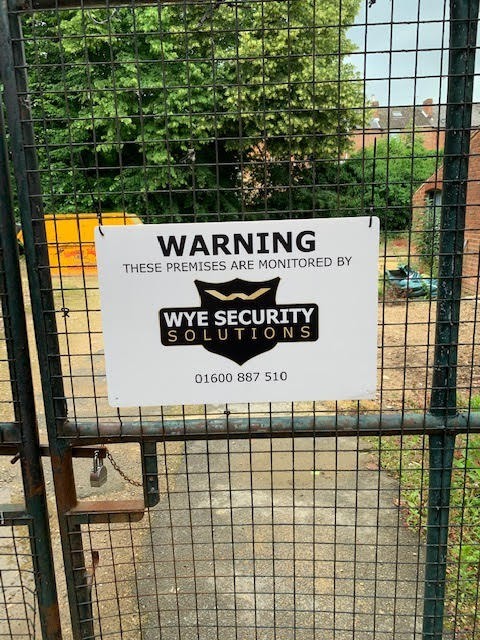 Professional Security Services
We also offer signage boards for your premises to advertise that they are monitored by professionals; this alone can be a deterrent to would-be criminals.
---
SIA Approved Contractor Status
WYE SECURITY SOLUTIONS LTD. holds SIA approved contractor status for the provision of Key Holding services. The ACS Standard encompasses all aspects of a security provider's operation. It takes a holistic view of how well an organisation is managed and an approved organisation must demonstrate to an independent assessor, on an annual basis, that it has met defined standards.
The whole team at WSS and Managing Director Andy Element worked hard to achieve the accreditation and will continue to uphold this high standard through the Key Holding services we provide. Visit our official listing in the Security Industry Authority's Register of Approved Contractors to find out more.
Vacant Property Inspections
We offer Vacant Property Inspection services to keep your empty buildings undamaged and unoccupied. Through regular patrols our team can send updates, act promptly on any issues and ensure your property remains undamaged. Vacant Property Inspections can be carried out when required to suit your needs.
Residential Security Teams (RST)
WSS can provide around the clock security for your home, whether large or small. We can provide solutions, with an experienced team of operatives and offer 24/7 cover for your home – short or long term.
Whether you are away on holiday or business, the peace of mind of knowing that your home or business is safe in the hands of a round the clock RST is invaluable. WSS offers that peace of mind.
Area of Operation
We operate across the region, providing security to both residential and commercial customers in the following areas:
Herefordshire

Rotherwas
Holme Lacy
Ledbury
Bromyard
Ross-on-Wye
Malvern

Gloucestershire

Newent
Cheltenham
Gloucester
Forest of Dean
Tewkesbury

Gwent
Worcestershire
Monmouthshire

Monmouth
Chepstow
Newport
Abergavenny
Usk
Pontypool
We are happy to discuss Key Holding solutions to your meet your needs, contact us now to find out more.