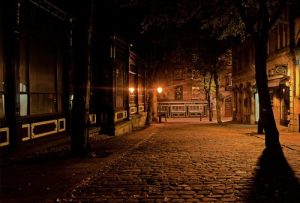 As summertime draws to an end, we're preparing for the Autumn clock change and the dark nights that it will bring. Don't forget that daylight saving ends on Sunday 27th October when the clocks must be put back by an hour. As the new season is just around the corner, we have been thinking about some of the implications it brings for your security.
Keep yourself safe
The dark nights mean that many of us may be travelling home after work or school in twilight or complete darkness, so there are a number of precautions to take before you venture out:
Where possible, walk home with a friend or in a group
Try to keep to familiar routes and areas that you know well
Tell parents or relatives which route you intend to take home
If walking alongside the road, wear a high visibility vest so that you are easily spotted by oncoming vehicles
Protect your property
Personal safety isn't the only concern as winter draws nearer. Research suggests that burglaries in the United Kingdom increase by as much as a third after the clocks go back. Burglary in summertime is often more opportunistic whereas the winter brings with it an increase in targeted incidents which are more likely to involve forced entry. Empty or unoccupied properties are also targeted during these dark months.
Here are a few tips to help keep your property safe this wintertime:
Look out for those in your area and don't forget to check on vulnerable or elderly neighbours
Be wary of any suspicious individuals or vehicles in your neighbourhood
Remain vigilant when answering the door to strangers and unexpected guests
Ensure doors and windows are locked securely at night or when leaving your house
Consider installing security lights or CCTV cameras on your property
Additional security
Our Key Holding service starts at just £1 per day and is an excellent choice for residential customers who are planning a holiday this wintertime. In your absence, our team can provide daily patrols and respond to any alarm activations. Key Holding from Wye Security Solutions is also a popular choice for securing vacant properties amongst both residential and commercial clients throughout the winter months.
Get in touch with us today to discuss Key Holding from just £1 per day this winter.